Today I'm really excited to share with you that Stampin' Up! is launching its own new range of storage solutions which are customizable to fit in inkpads ( new size0, Stampin' Markers, Stampin Blends, reinkers and more. I've already ordered some to get me started and I cannot wait till they arrive.
Check out the video showing the veratility of the products here.
Key Product Features:
Keeps products organised, tidy, visible, and trackable at all times.
Ensures that your Stampin' Pads, Stampin' Write Markers, and Stampin' Blends are all stored horizontally, as recommended.
Designed to be stylish, durable, compact, stackable, and modular.
Blends in naturally with most home decor with its white neutral colour.
Stacks vertically and can be arranged to fit practically any flat workspace.
Easily assembled and disassembled for rearrangement and/or cleaning.
Here a look at the products, just click on the images to purchase:
Also available while supplies last Floral Grid Paper: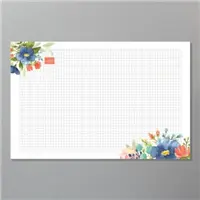 Happy Organising
Joanne x